A well collected artist trained in the classical style, Daniel Edmondson brings Old Master painting into the modern using contemporary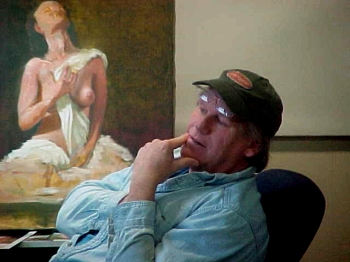 themes and expressive brushwork. Edmondson's masterful handling of paint is a combination of light and shadow with nuances of broken color. In painting portrait and figure, still life, and landscape; there is a keen sense of richness of color, balance and movement in his work. His dramatic use of light captivates your eye as you wander through the painting.
Daniel lives in Fort Collins, Colorado with his family. Daniel has studied at the University of Colorado at Boulder, Palette and Chisel in Chicago, the Loveland Academy of Fine Art , the Fechin Institute in Taos, New Mexico, the Scottsdale Artists' School in Scottsdale, Arizona, and The Arts Students League in Denver, Colorado.
Daniel Edmondson has works placed in private collections in Austria, Canada, England, Germany, Iceland, Spain and the United States and has won numerous awards in exhibitions and museum shows.
Click to Visit Daniel Edmondson's Website: www.DanielEdmondson.com